Available in Hard Copy
This publication is available to order (free). If you would like to receive a copy, Click here to place your order.
Tropical Nursery Manual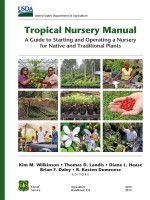 A Guide to Starting and Operating a Nursery for Native and Traditional Plants
If you would like a printed copy of the manual, click here for an order form.